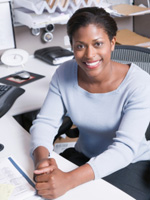 Our practice will file dental insurance for all of our patients. Most insurance companies will let the patient assign benefits to the dentist so the patient is only responsible for the deductible and co-pay on the day of the appointment. Our goal is to maximize your insurance benefits.
Our fees are based on the quality of the materials we use and our experience in performing your needed treatment. To facilitate this goal we accept personal checks and Visa, MasterCard and Discover. Outside financing is available through CareCredit. We also will set up payment agreements with our established patients.
Any questions concerning your insurance benefits or financial arrangements can be directed to our office at (757) 547-7070.